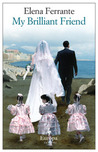 My Brilliant Friend by Elena Ferrante
My rating: 3 of 5 stars
Took me long enough to read this book. It's an extremely slow read with a lot more information than I think it needs. There is a lot of description, including violence and characters being introduced at every turn. I got very confused and just when I thought I was clear on who each character was and what role they played another one appeared.
I have two theories as to why the first book feels so confusing 1) the translation makes it more difficult to explain the scenes perhaps the Italian version is less complicated; and 2) this is the first book of a series and, although it feels like we didn't go anywhere and it was just a whole lot of pages talking about very detailed every day occurrences in a poor Italian village, the next three books of the series will bring it all full circle and the confusion of this first book will all be explained.
I have some issues with the main characters themselves but I can't go into it without spoiling the story so I won't discuss those feelings here but, let's just say that I wanted to slap them at times and tell them both to grow up. There was a lot of jealousy and pettiness while pretending to be friends. There was a lot of taking people for granted and a lot of being ok with their lots in life and that made me crazy and brought me at times hate both of them.
I am not sure I would recommend this book and if I were to recommend it to whom I would recommend it. I find it difficult to read but am hopeful that the next book will change my mind…. Maybe then I'll recommend this one.
I wish I could give this book a better review but for now this is it.